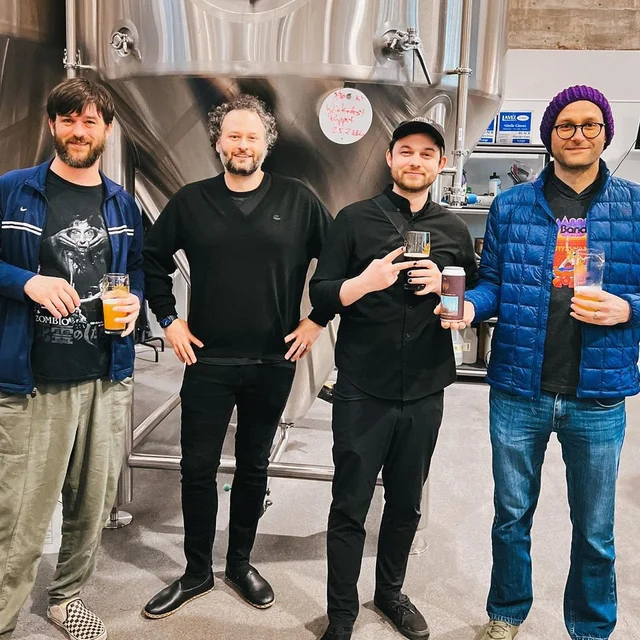 In July, Oklahoma noise-rock quartet Chat Pile dropped one of the gnarliest albums of the year, like a nail bomb on unsuspecting ears. Titled God's Country, the nine-track LP sounds as if it were born very, very far from anywhere holy, with songs like "Slaughterhouse" and "Tropical Beaches, Inc." putting elements of Godflesh, the Jesus Lizard and Roots-era Sepultura (Chat Pile covered "Roots Bloody Roots" on the recent nu-metal covers comp Send the Pain Below) through a meat grinder and then grilling up the results by blowtorch.
Ahead of their upcoming East Coast shows, Chat Pile — a.k.a. vocalist Raygun Busch, guitarist Luther Manhole, bassist Stin and drummer Cap'n Ron — have teamed with Revolver to premiere the new music video for standout cut "The Mask." Watch above, and below, read our brief convo with Stin about the song, the visual and his undying love for Korn.
THIS BEING REVOLVER, WE HAVE TO ASK ABOUT NU-METAL FIRST. IS KORN IN FACT YOUR FAVORITE BAND?
STIN Korn is one of my favorite bands of all time, but to clarify, I'm the only member of Chat Pile that feels this way. Pound for pound, they're probably the band I've wasted the most time thinking about and probably the band I've cumulatively spent the most money on.
This question reminds me of the time when I was wearing a Morbid Angel shirt at an Eyehategod show and the merch guy challenged me to name my three favorite Morbid Angel songs. Here I am trying to give money to the band, and the guy working the booth, a grown man, couldn't help but question me, another grown man, about my metal cred. Did you know that the back cover of Take as Needed for Pain still has a racial epithet on it, and it's written in comic sans?
Anyways, I once shook Big Jay Oakerson's hand at two in the morning inside a turnpike McDonalds outside of Wichita. He had opened for their Korn III: Remember Who You Are theater tour and we had both stopped to use the bathroom there on our way home from the show.
Well, again, I must reiterate that I'm really the only "Korn Nut" in the band, but that said, we try to weave in big, open, simple riffs with lots of groove behind them. We also have a penchant for traditional song structures, but that's more of a general "alt rock" thing that can't be attributed to Korn exclusively. We do play in Korn tuning, and I use a lot of high-end in my bass tone, for what it's worth.
Not really. Most nu-metal is completely unlistenable, especially anything made after 1999. The early Ross Robinson era has some undeniable hits like the first two Slipknot albums, Roots and a couple others. The Deftones have obviously aged really well and they're one of Luther Manhole's favorite bands so I'm sure a lot of that ends up in the hillock of Chat Pile influences.
THE SONIC GAP BETWEEN KORN AND GODFLESH AND THE JESUS LIZARD ISN'T AS BIG AS SOME PEOPLE LIKE TO THINK, IS IT?
The gen Xers who lived through the era would probably argue that there are vast differences, but they all share similarities and all come from the same cultural stew of heavy music as far as I'm concerned. The main thing all three bands have in common is an overwhelming reliance on rhythm, nontraditional vocals and very dark lyrical themes. The guitar and bass tone on the first Korn record sounds so similar to the guitar and bass tone on [Godflesh's] Streetcleaner I can't help but think there might have been some intentionality on Korn's behalf.
We have a very good friend who wrote a book loosely inspired by the killing spree committed by Roger Dale Stafford in Oklahoma in the late Seventies. Raygun based the song on the book so it's a bit of a "picture within a picture" take on the events that took place. It's one of the most outwardly dark songs on the album for sure.
The video was made by Jaun Vargas, and the concepts and visuals are all completely his. The video doesn't relate to the song at all by design — the idea being to take a more ethereal, abstract approach to the visuals. Mark my words, we'll never make a literal music video and you'll never see our dumbasses dancing around in them either!